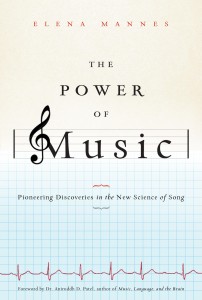 "THE POWER OF MUSIC: PIONEERING DISCOVERIES IN THE NEW SCIENCE OF SONG", by Elena Mannes, published by Bloomsbury USA.
Publication date May 24th, 2011
ISBN 978-0-8027-1996-6
$26.00 Hardcover • 8 1/4 x 5 1/2 • 288 pages
M
usic is an integral part of nearly every person's life, but few of us realize that science plays a role in our ongoing love affair with the rhythms and tunes that enhance our daily lives. As Elena Mannes reveals in her eye-opening book, THE POWER OF MUSIC: Pioneering Discoveries in the New Science of Song (May 31, 2011; Bloomsbury USA; hardcover; ISBN 978-0-8027-1996-6; $26.00; 288 pages), we are at a breakthrough moment in music research, for only recently has science sought in earnest to understand and explain the influence of music and its connection to the body, the brain, and the world of nature.
Today, music's powers are even helping to treat Parkinson's, cancer, strokes, and more. With science backing up what many have known for centuries, perhaps iPod apps will be a prescription of the future! Written in language that will appeal to a general audience and updated with the most recent research to date, readers of THE POWER OF MUSIC will never think of music the same way again.
The award-winning creator of the highly acclaimed PBS documentary The Music Instinct: Science & Song, Mannes expands on the film's fascinating revelations and follows visionary researchers and accomplished musicians to unveil the latest discoveries in the new science of music. Drawing on her own family history, rich with generations of musicians, Mannes explores the questions of nature vs. nurture and biology vs. culture, all the while weaving a mesmerizing journey throughout the world.
---
"We've always known that music is a transformative, spiritual experience—now modern science can explain how and why. Elena Mannes explores this groundbreaking and often poetic new territory."—Bobby McFerrin, vocalist/pianist/conductor
"I knew nothing about music—except for knowing what music I like—until I took this journey with Elena Mannes. What a trip! Elena Mannes has always crafted exquisite stories for television, winning all the top awards for excellence over her long career at CBS and PBS. Now she has brought that gift for storytelling to THE POWER OF MUSIC, laying out even for an untutored layman like me a captivating account of how music connects mind and body. She digs deeply into stunning new research into music's importance in our lives and reveals that science and art are muses that nourish each other and enrich individual lives." —Bill Moyers
Praise for "The Power of Music: Pioneering Discoveries in the New Science of Song"
REVIEW: Kirkus Reviews 03.01.2011
ARTICLE: The Influence of Music