Soul Dog
A Journey into the Spiritual Life of Animals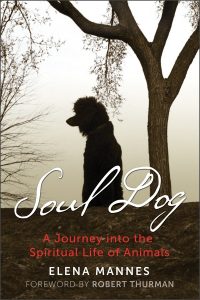 By Elena Mannes
Foreword by Robert Thurman
Pages : 176
Book Size : 6 x 9
ISBN-13 : 9781591433262
Imprint : Bear & Company
On Sale Date : November 13, 2018
Format : Paperback Book
Preorder:
Inner Traditions & Bear & Company | Amazon.com | Barnes & Noble.com | Indiebound.org
More coming soon!
---
An exploration of animal spirituality and the ability of animals to communicate with humans even in the afterlife.
Chronicles the author's profound relationship with her dog, Brio, his ability to read her mind and emotions, and the messages she received from him after his death
Shares the author's research with animal communicators, psychics, and scientists specializing in animal intelligence such as Rupert Sheldrake
Explores animals' thoughts and feelings, interspecies communication and telepathy, animal souls and the afterlife, and animal reincarnation
Paper with French flaps
Looking for companionship after a near-fatal car crash, Elena Mannes, an award-winning television journalist and producer, decided to get her first dog. But what she found with her dog Brio shook the foundations of her physical and spiritual worlds, sending her on a quest to discover the nature of his spiritual origins and to contemplate and seek out the possibility of interspecies communication–even after death.
Soon after bringing her puppy home, Mannes realized that the master-companion relationship would not be possible with Brio, who quickly showed that he had a mind–and a spirit–of his own. A healer Mannes visited immediately focused on Brio, exclaiming that he was an old soul. Mannes's growing curiosity about the intelligence, emotions, and consciousness of Brio and other dogs led her to contact an animal psychic in California who described, with amazing accuracy, Brio's favorite walks and the author's apartment from the dog's point of view. Motivated by her experience, Mannes produced a filmed segment with Diane Sawyer featuring the same psychic, who described Sawyer's country house and her dog's favorite spots in the yard. Mannes's skeptical journalist background compelled her to investigate further. She delved into the world of animal communicators, psychics, and scientists studying animal intelligence, including Rupert Sheldrake, to find answers to her multiplying questions: Do animals have thoughts and feelings? Consciousness? Souls? Is interspecies communication possible? Can animals reincarnate?
Spanning the entire life and afterlife of Brio, including his last days and his messages to the author after he passed on, this book also explores Mannes' investigations into the spiritual life of animals, offering a new understanding of the unbreakable bond between humans and animals. Mannes invites readers to move beyond the owner-pet relationship and shows us how to see animals as thinking, feeling, spiritual beings whose connections with us extend far beyond life and death.